VW Fuel Economy

When you're planning to buy a new car, there are some numbers that matter more than others. You want to know about your approximate payment, how the purchase is going to affect your insurance policy, and how much gas your vehicle is going to use to get you around the Avon, Indianapolis, and Plainfield areas.
This is where we come in. At Andy Mohr Volkswagen, we want our customers to have the information they need when shopping for a new car. We know there's a lot of planning that goes into the process, so we've created this helpful fuel economy database that allows you to choose your favorite model and see what the average gas mileage will be.
VW Passat Gas MileageVW Tiguan Gas MileageVW Jetta Gas Mileage
Checking Out Our Fuel Economy Reviews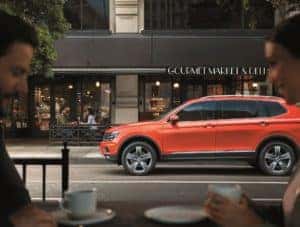 Not only do we provide the basics of gas mileage for several different models, but we also walk you through some other key features about the car, including what to expect from the engine or how much space you'll have on the inside. However, our fuel economy reviews break things down into plain language, so you can better understand what to expect from your chosen model.
Each review spells out how many miles per gallon you can expect from the model you like when you're traveling through your local city for a date night or an after-work happy hour. However, these reviews also walk you through how often you'll have to stop when you hit the road for a weekend trip out of town on the highway.
Gain Volkswagen Gas Mileage Knowledge
Our fuel economy reviews are your one-stop resource when trying to draw out a plan for your next vehicle purchase. Calculate your average drive to work or to the store for groceries and you'll easily be able to predict approximately how many times you'll be filling your gas tank in your new Volkswagen in a given pay period, month, or year.
By clicking one of our links, you'll be transported to a page that features a plethora of information about your chosen Volkswagen models. Find out which model suits your needs in the Avon, Plainfield, and Indianapolis areas best. When you're ready, contact us to schedule a test drive.