Volkswagen Jetta

View New VW Jetta Inventory
If you're looking to join the ranks of
Volkswagen Jetta
drivers, then you've surely come to the right place to get your researching done. We're sure you'll find that the VW Jetta has everything you may want from a vehicle in its class, including efficiency, safety, and performance. Whether you're looking for something to celebrate your newest promotion in the Avon, Indianapolis, and Plainfield areas, or even if you're a VW Jetta loyalist, you'll be able to get all the details about this vehicle here.
At Andy Mohr Volkswagen, we want to provide a bevy of resources for your research purposes. In an effort to give our customers the information they need, we've compiled three different types of sources for your fact-finding mission. On this page, you'll find everything you need to get the answers to all your questions.
2019 VW Jetta Review
2018 VW Jetta Review
VW Jetta Interior
VW Jetta Gas Mileage
VW Jetta Trim Levels
VW Jetta vs. Honda Civic vs. Kia Forte
VW Jetta vs. Toyota Corolla
VW Jetta vs. Ford Focus
Vehicle Reviews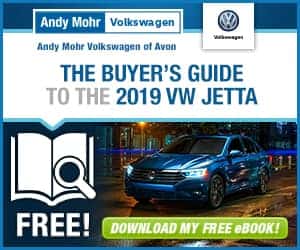 Immensely popular, the Volkswagen Jetta offers more than enough power to get you to where you need to go, and if you need to know the numbers, just check out one of our vehicle reviews. Within these guides, we can give a whole host of information about your potential new car.
From finding out about the average EPA-estimated gas mileage to what to expect from the driver's seat, all the facts are readily available for your reading pleasure. Not only can we give you the quick facts about the VW Jetta, but we've also collected this information all in one convenient location, so this page can serve as your last stop in the research process.
How Does It Compare?
Whether you've got your heart set on the VW Jetta and just want to back that up with some facts, or if you have two different vehicles in the same class in mind, we can help. Our vehicle comparisons give our customers the ease of seeing the VW Jetta head to head against some of the biggest sellers in its class, all while supporting the notion that the Volkswagen Jetta is the clear choice.
Do you want to know which vehicle has more trunk space or maybe has more options for configurations? Then look no further, because our comparisons will hit on several different points and in each point, the VW Jetta will emerge as the advantageous purchase.
Available Configurations
When a manufacturer designs a specific car, they create trim levels, so customers can pick the level which best suits them. An upgrade in trim usually means adding in some key features in which drivers seem to be interested these days. Whether it's cool safety features or a top of the line stereo system, each jump up the trim levels gives us the option to provide our customers with what they really want.
This year's model of the VW Jetta offers drivers five different levels of trim from which they can choose their new vehicle. The S trim serves as the entry level for the VW Jetta and offers tremendous additions such as a Driver Assistance Package. Meanwhile the SEL Premium can offer built-in navigation and 17-inch alloy wheels. Your purchase is all a matter of preference.
Your Volkswagen Jetta Resource
When you're making preparations to visit us from the Avon, Indianapolis, and Plainfield areas, in pursuit of your new vehicle, we'll be ready for you. At Andy Mohr Volkswagen, we'll make sure you have all your questions answered by a member of our efficient and friendly sales team, so schedule a test drive at our Volkswagen dealership and come see us soon.