2019 VW Jetta Gas Mileage
When you're looking for a compact sedan, you want to find a vehicle that can maximize its fuel economy without sacrificing power. At Andy Mohr Volkswagen, we want to show drivers in the Avon, Indianapolis, and Plainfield areas what the 2019 Volkswagen Jetta has to offer.
Read more to learn about the high miles per gallon of the 2019 VW Jetta and how it achieves this with intelligent design.
| | |
| --- | --- |
| 2019 VW JETTA SPECS | |
| Fuel economy | EPA-estimated 30 city/40 highway MPG1 |
| Standard engine | Turbocharged 1.4L engine |
An Economical Turbo Engine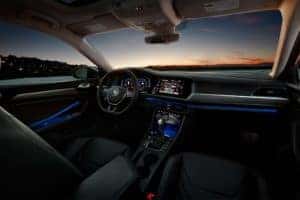 The latest VW Jetta offers a powerful 1.4L inline 4-cylinder turbocharged engine with 147 horsepower and 184 lb-ft of torque. However, this engine isn't just powerful, but it also offers great miles per gallon. With an EPA-estimated 30 city MPG and 40 highway MPG, this vehicle will certainly help keep you from visiting the pump too much.1
This compact sedan brings a lot to the table in terms of fuel economy and power, but how it achieves this feat comes down to its design. The VW Jetta is designed with efficiency in mind, inside and out, to make for an attractive and fun compact sedan.
Auto Start-Stop Technology
The engine of the 2019 VW Jetta can also come with available auto start-stop technology. With this feature, your vehicle will be able to greatly reduce gas consumption while idling.
With auto start-stop, your vehicle will shut the engine down if you're idling for too long and start the engine back up when you hit the gas. This feature is great for the stop-and-go traffic seen in cities, and it relieves drivers of fuel economy concerns while stuck in bad traffic.
A Tuned Tiptronic® Transmission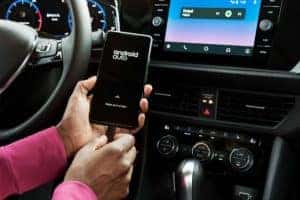 The 2019 Volkswagen Jetta is built to be sporty and compact. In order to maximize that potential, it's been equipped with a well-designed transmission. This vehicle offers an available 8-speed automatic transmission with Tiptronic®.
Tiptronic® allows the vehicle to shift gears like a manual but without a clutch and with the option to go fully automatic. With Tiptronic®, drivers can easily take control of their vehicle's efficiency without the complexity of a manual. This allows you to always have the option to ensure your engine isn't overworking itself.
A Compact and Crafted Body
The body of the 2019 VW Jetta has been sculpted to allow the wind to blow over it easily. Having an aerodynamic body is important to maximize fuel economy and the VW Jetta achieves this with intuitive engineering.
The curved design of the body paired with the sharper angles along the front bumper helps mitigate wind resistance, so the engine doesn't work as hard. The vehicle has been crafted to look attractive while having that same design serve an efficiency purpose. The VW Jetta blends form with function to create a well-engineered compact sedan.
Test Drive a 2019 VW Jetta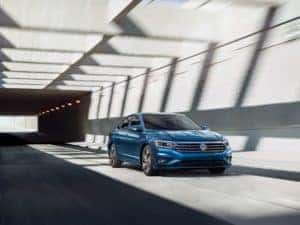 This 2019 VW Jetta has been designed to maximize your miles per gallon while also providing the tools to allow you to control your engine's workload. At Andy Mohr Volkswagen, we want drivers in the Avon, Indianapolis, and Plainfield areas to drive a vehicle that makes sure they won't be going to the pump too often.
If you're interested in trying out the 2019 VW Jetta, schedule a test drive with us online or over the phone today!
Related Posts
1 30 city/40 highway mpg (2019 Jetta 1.4L, 6 speed manual transmission). EPA estimates. Your mileage will vary and depends on several factors, including your driving habits and vehicle condition.