VW Passat Gas Mileage

When the hunt is on for a reliable and efficient sedan, where do you start looking? At the Volkswagen Passat, that's where. With an impressive mileage per gallon, this sedan functions not only as a stylish and functional vehicle, but also as a spacious way to carry your children around town or run the company carpool in Avon, Indianapolis, or Plainfield.
At Andy Mohr Volkswagen, we have dozens of these vehicles on our lot waiting for the right owner.  However, it's inevitable that new buyers are going to want some facts about the VW Passat, so we created an outline to help guide them with thorough information and the answers to some frequently asked questions.
View Inventory
VW Miles Per Gallon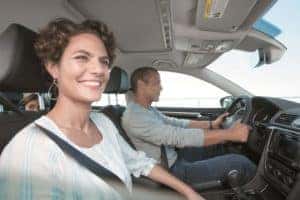 When your Volkswagen Passat is equipped with the standard 2.0L Turbo engine, you can expect an EPA-estimated 25 MPG in the stop and go of the big city, while the highway offers up 36 MPG.1 This high fuel economy offers a longer trip without stopping for gas and interrupting your good time.
In the V6 SEL Premium and the V6 GT, the standard engine is 3.6L V6 and the gas mileage is a bit different. In the hustle and bustle of the city, your VW Passat will achieve an EPA-estimated 19 MPG, while it averages an impressive 28 MPG on the highway.1 Expect more from your gas tank with this car than you ever have before.
Safety
During a collision, the Intelligent Crash Response System only triggers when the airbags are deployed.  When it activates, it'll shut down power to the fuel pump, unlock the doors, and turn on the vehicle's hazard lights, thus ensuring your safe exit of the vehicle when possible as well as further notification that your vehicle is disabled.
With the addition of the Automatic Post Collision Braking System, you can reduce the potential impact during a collision. This system applies the brakes for you in the instance that your vehicle doesn't come to a complete stop during the accident. Prevent additional damage to your vehicle or others when this system engages.
Technology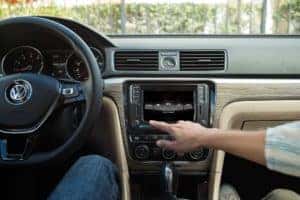 Use the Rearview Camera System to spot any potential obstacles that may affect the appearance of your vehicle. This camera is integrated into the rear of your vehicle and allows you to see that lingering shopping cart that is blocking your path or the stray bike that's been abandoned in your driveway.  Finally, you'll get the eyes in the back of your head you've been wishing for.
When your car can potentially come with a sound system named by the guitar giant Fender®, how can you go wrong with that sound? The available Fender® Sound System offers concert-level quality from your favorite CD, radio station, or Spotify playlist. Cherish every musical minute spent in your car with this superb optional sound system. Explore some more interior features of the VW Passat to learn how innovative this sedan is.
VW Passat: Find Out More Today
Come down and see us from Avon, Indianapolis, or Plainfield and experience everything the Volkswagen Passat has to offer, from its fuel efficiency to its many tech options and safety features. At Andy Mohr Volkswagen, we know you'll be impressed as soon as you get behind the wheel, so schedule a test drive today.
1 EPA estimates. Your mileage will vary and depends on several factors, including your driving habits and vehicle condition.